From 7490€ exc. VAT
Productive & EFFICIENT
Strateo3D IDEX420 is an industrial 3D printer based on Fused Filament Fabrication (FFF) technology. This machine offers a wide variety of printable polymers to suit the user's needs, as well as unrivalled robustness and reliability.

For mass production requirements, the Strateo3D IDEX420 is equipped with two independent extrusion tools that can run simultaneously, doubling the printing speed. Its removable 420 x 320 mm bed allows for uninterrupted production.

For your complex parts, double extrusion allows the use of soluble support materials, Strateo3D IDEX420 has no limit of faisability.

Also equipped with a chamber heating device to ensure the printing of high-shrinkage technical materials.

Reliable and ergonomiC
An industrial tolerance and repeatability, unmatched on ISO2768-mK office machines.

Intelligent and modular tools with automatic detection & calibration for greater flexibility in the use of your machine.

A borosilicate glass removable bed guaranteeing a perfect flatness as well as an homogeneous heating.

A control touch screen including Stratocontrol3D: the dedicated interface supplied with your machine.

USB, Wifi, Ethernet.
VERSATILE & SEcure

Low machine & material costs to guarantee the fastest possible return on investment.

Large range of standard and technical polymers (see technical data sheet).

Strateo3D IDEX420 is an open machine allowing the use of non-proprietary materials.

Intelligent and versatile tools combining finesse and speed thanks to a range of nozzles from 0,4 to 0,8mm.

Standard filtration system removing up to 99.95% of 0.3 micron particles at a flow rate of 40 m3/h.

Industrial filtration system (optional) removing up to 99.997% of 0.3 micron particles at a flow rate of 150 m3/h.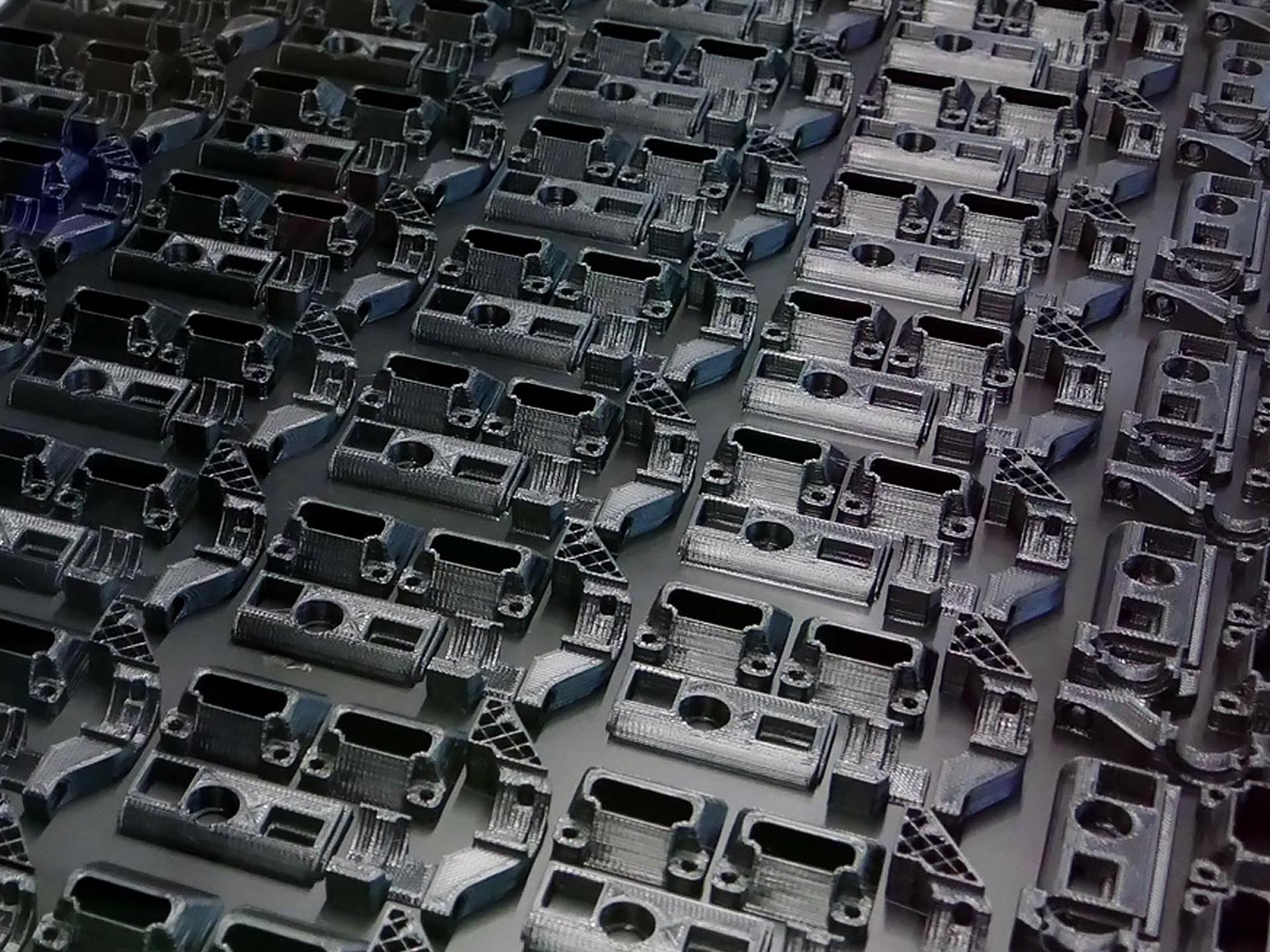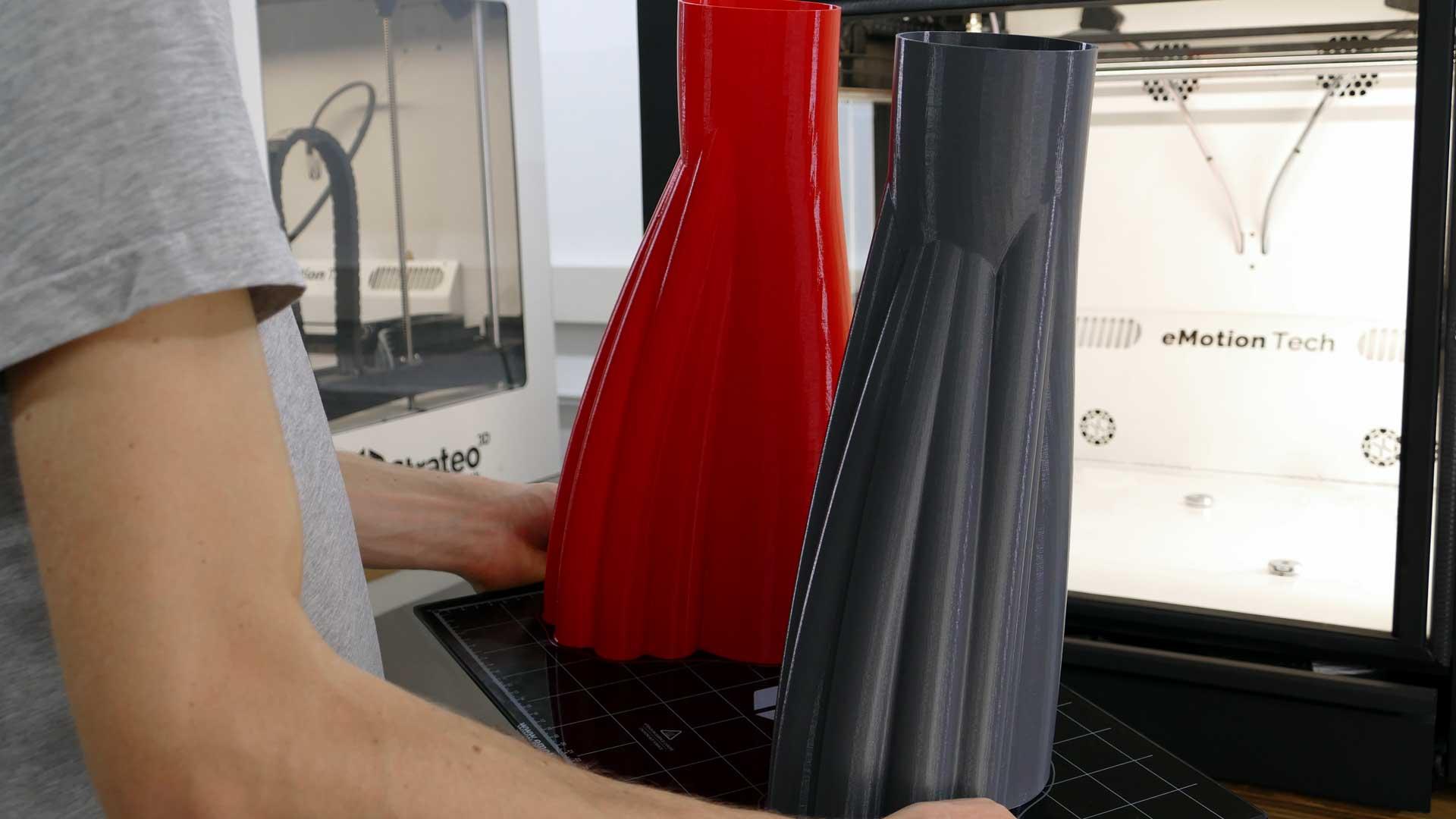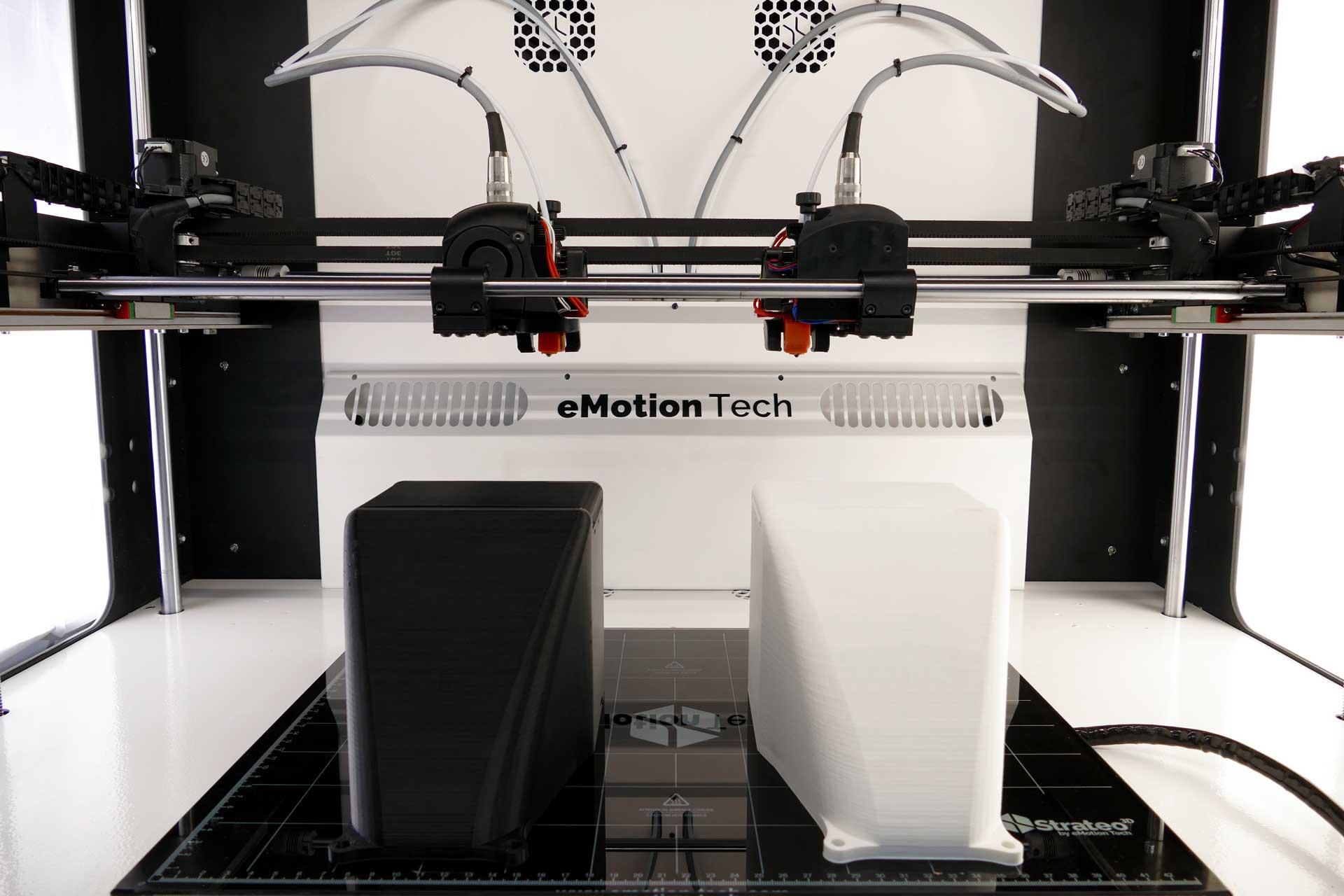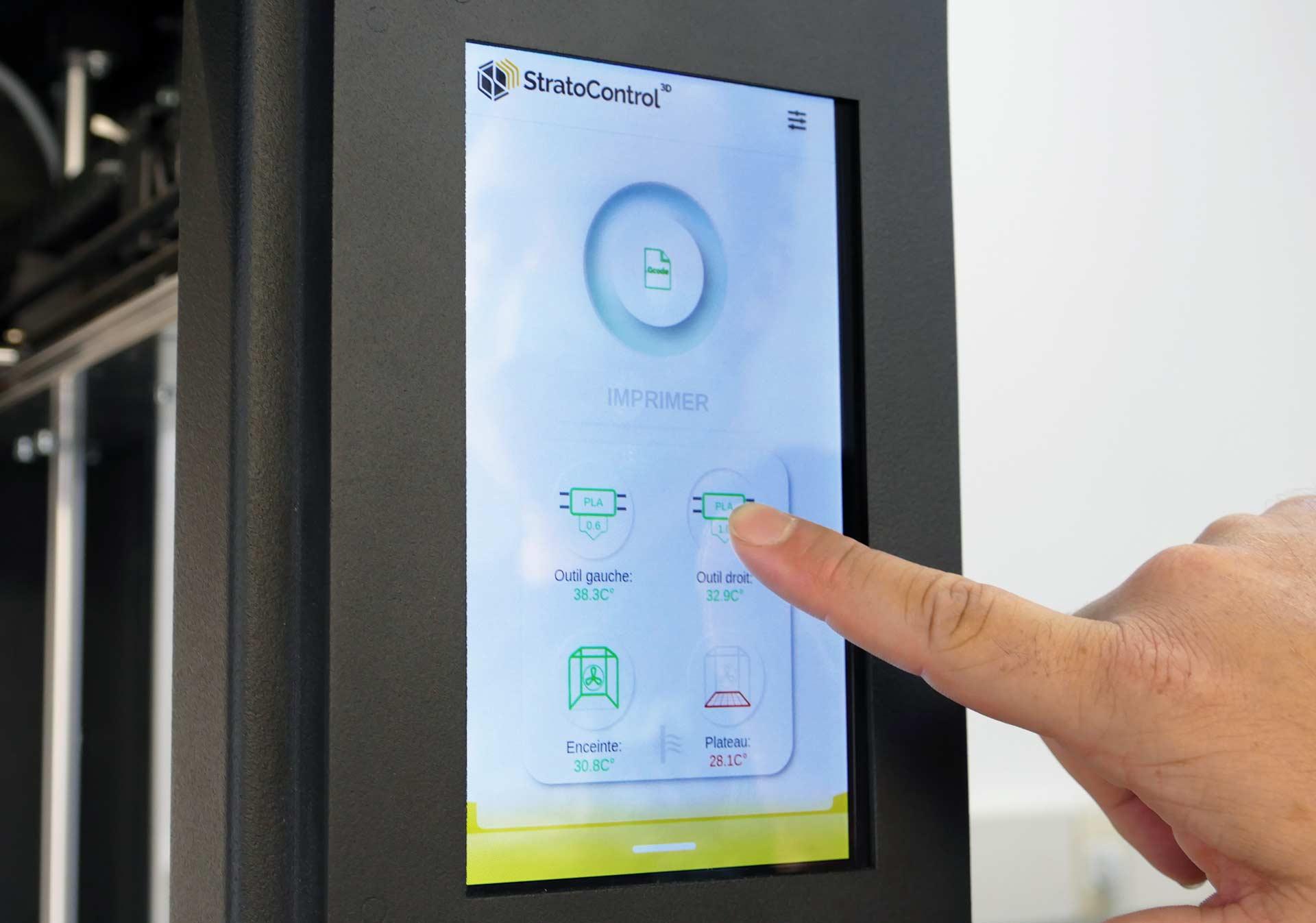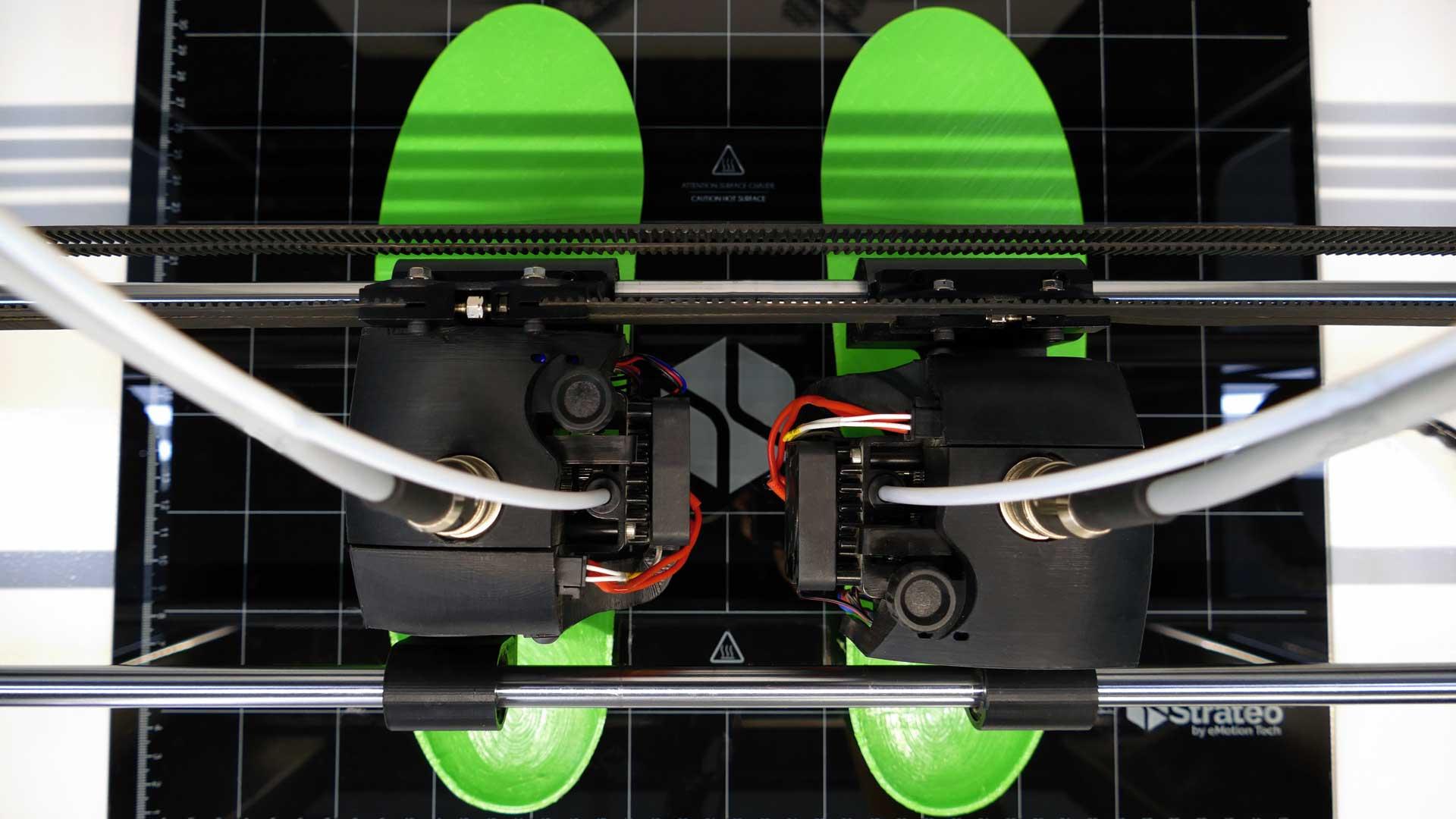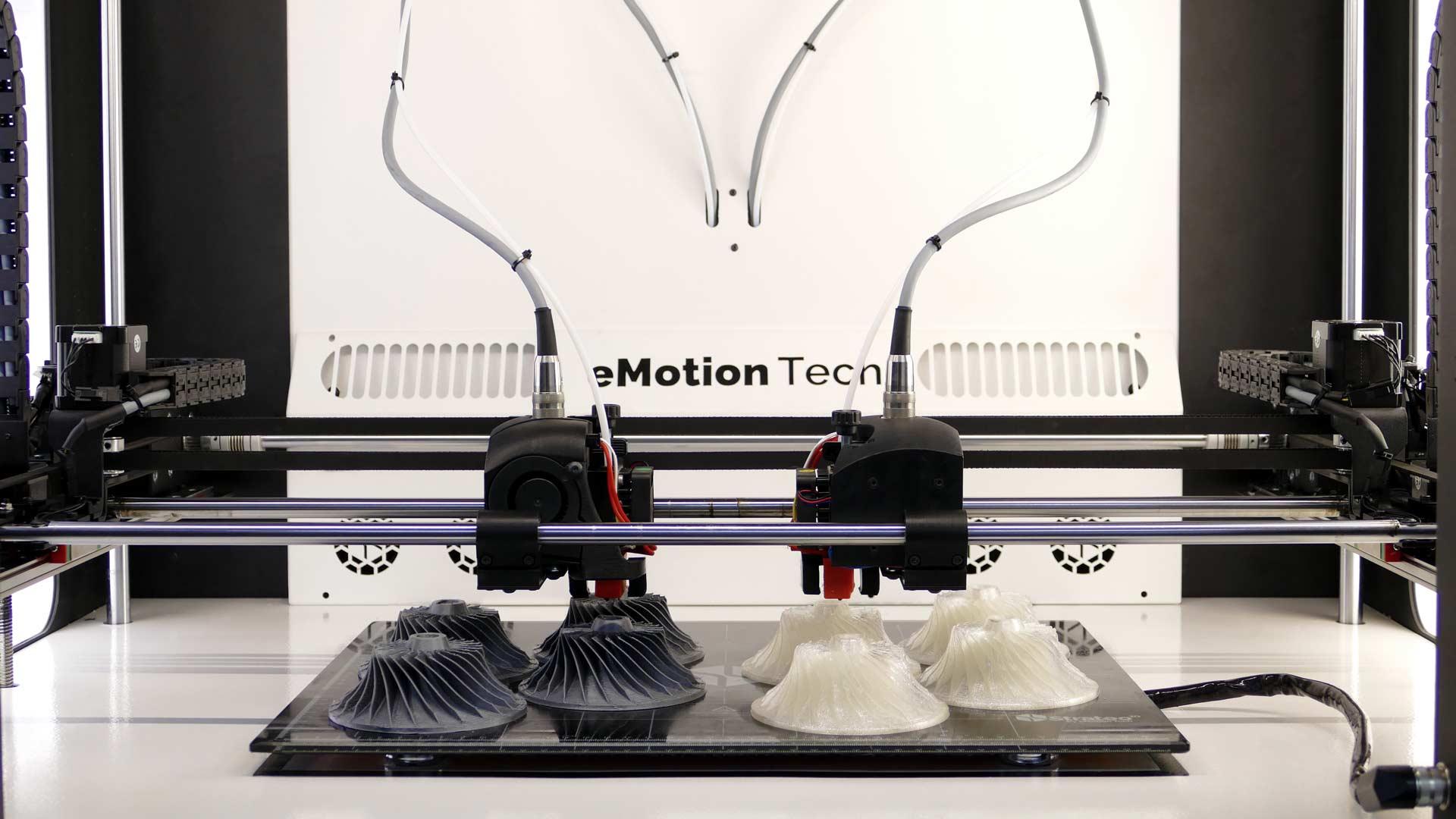 | Label | Value |
| --- | --- |
| Size | Hight 810mm, Width920mm, Depth 700mm |
| Printing volume | 420 * 320 * 400 mm (53,76 liters) |
| Polymere types | Every 1,75mm non propietary polymere available: PLA, ABS, PETG, PC, PC-ABS (ul94-V0), ASA-X, TPU, BVOH, PVA, HIPS, PA6-66, Acetate |
| Extrusion | 2 independant extruders, bi-material, bi-coulour |
| Nozzles diameter | 0,4 to 0,8mm |
| Extrusion temperature | 300°C |
| Heatbed | 120°C |
| Chamber temperature | 60°C thermo regulated |
| XY robot accuracy (mm) | 5µm |
| Z robot accuracy (mm) | 1,25µm |
| Filtration | Standard HEPA filtration + active carbon, or industrial filtration system (optional) |
| Firmware | Stratocontrol3D developed by eMotion Tech, reachable from any device with a web browser + Cura slicer |
| Connectivity | USB, ETHERNET |
| Weight | 90kg |
| Layer thickness | 0,1mm to 0,6mm (depending on used nozzles) |
| Supported OS | Mac OS, Windows, Linux, Android, IOS and any system with a web browser |
Would you like our sales department
to contact you about this 3D printer?
Let us know by filling this form.